Lift Up Our Voices Scholarship Announces 2021 Recipient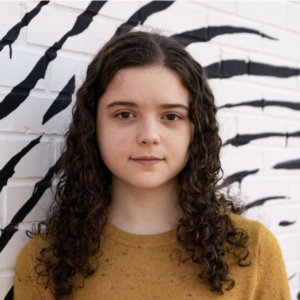 Lakeland, Florida (August 20, 2021) – The Adjudication Committee for the Lift Up Our Voices Scholarship for Underrepresented Composers is pleased to announce recipient of the 2021 scholarship, Emily Singleton. Ms. Singleton will be majoring in music composition at the Jacobs School of Music at Indiana University, Bloomington in the fall.
Emily Singleton (b. 2002) is a violist, composer, and writer from Gainesville, FL. Emily's recent work explores intersections in poetry, linguistics, visual art, and music centering breath, gesture, and interaction of physical material. Her music has been described as "lovely and intense," "extremely colorful," and "incredibly precise" while "thinking outside the box."
Emily has had her work presented at ShapeShifter Lab, University of Florida, Interlochen Center for the Arts, University of Georgia, Curtis Summerfest, Historic Thomas Center, SUNY at Fredonia, St. Augustine Music Festival, Young Women Composers Camp, and Petaluma Center for the Arts. She has collaborated with artists and ensembles such as flutist Mimi Stillman, Face the Music, mezzo-soprano Elisa Sutherland, Gainesville Civic Chorus, Dolce Suono Ensemble, Alachua County Youth Orchestra, New York Youth Symphony, and World Youth Wind Symphony, as well as been featured by organizations and projects such as New Music Decanted, Para el Pueblo Project, and Fredonia New Music Reading Gathering.
Emily's work has been recognized by the National Federation of Music Clubs, Florida State Music Teachers Association, Sacred Music Florida, Foundation for the Promotion of Music, Technology In Music Education Foundation, Music Teachers National Association, Music at the Anthology, ASCAP, Luna Lab, and NextNotes. She has also received grants from the Ashley Willwerth Memorial Scholarship Foundation, BRASS Ring Karen B. Boling and Colin Kiely Memorial Scholarship, and New Music USA's New Music Solidarity Fund. As a 2019 William and Martha Paine Orchestral Scholar and member of the Tomari Quartet she recorded Erwin Schulhoff's 5 Pieces for String Quartet at IPR in summer 2019. In 2021, she participated in Sō Percussion's Collaborative Workshop and Summer Institute, and was an apprentice composer with NYO-USA.
In high school Emily studied with Paul Richards, Daniel Felsenfeld, Jorge Peña, and Stephen Fine, and took creative writing classes as a dual enrollment student at University of Florida. She will begin studies at Indiana University Jacobs School of Music in Fall 2021 as a Jacobs Scholar, pursuing her BM in music composition and viola performance, studying composition with Sky Macklay and viola with Atar Arad.
Lift Up Our Voices Scholarship Inaugural 2020 Recipient
Lakeland, Florida (July 15, 2020) – The Adjudication Committee for the Lift Up Our Voices Scholarship for Underrepresented Composers is pleased to announce that the inaugural scholarship is awarded to KiMani Bridges. Ms. Bridges is a 2020 graduate of duPont Manual High School in Louisville, Kentucky, and will be majoring in music composition at the Jacobs School of Music at Indiana University, Bloomington in the fall.
The Lift Up Our Voices Adjudication Committee is comprised of a diverse group of world-renowned composers, conductors, and music educators, all of whom are committed to the mission of the scholarship: to increase the representation of female-identifying students and students of color in the field of music composition. The committee members include Kaitlin Bove, Carol Brittin Chambers, Rodney Dorsey, Jennifer Jolley, Yukiko Nishimura, David Samuel and Daniel Schmidt.
The committee was extremely impressed with KiMani's application, her achievements in music thus far, and the maturity displayed in her compositions. Adjudication committee members shared these words: "Highly creative and gifted." "KiMani's main strengths lie in her fantastic timbral choices and textural decisions." "She has a mature sense of her music, possibly making a difference in the community. I think we need that broad outlook in our world right now." KiMani's musical accomplishments are exemplary, and Lift Up Our Voices is delighted to award her the inaugural scholarship. We eagerly anticipate the impact she will have on the musical world in the coming years!
The talent of the scholarship applicants in this first year exceeded our expectations! We look forward to continued growth of the scholarship offerings in the future.
***********
Lift Up Our Voices, Inc. is a non-profit corporation whose sole purpose is to provide scholarship money for high school students who are female-identifying, or are a person of color, and are planning to study music composition in college. Potential applicants for next year's scholarship offerings can find more information at our website www.liftupourvoices.org.